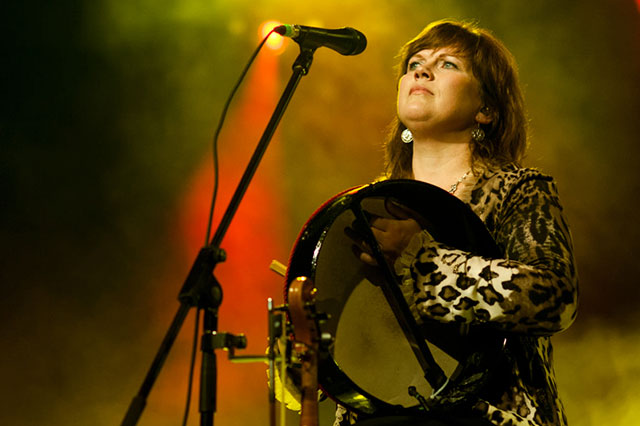 We're delighted to be bringing you a fresh and exciting lineup this year from the first very concert to the closing show. The 19th annual Celtic Colours International Festival covers a wide range of traditions and features some very well-known artists including Loreena McKennitt, String Sisters, Ricky Skaggs, Fred Morrison, Paddy Keenan, Ashley MacIsaac, Donnell Leahy, The Barra MacNeils, and Laura Smith.
Festival Favourites
It will be a great year to see all your Celtic Colours favourites who are here for return visits. We Banjo 3 from Ireland blew us all away last year so we asked them back, and our perennial favourite Irish harp player Laoise Kelly just can't stay away. Helene Blum and Harald Haugaard melted hearts in 2013 and have agreed to a repeat performance. If you didn't see April Verch on her last two visits don't miss your chance to see her dance and hear her tunes. If you're lucky you might catch Nic Gareiss sharing a step with April at the Festival Club. Scotland's Kathleen MacInnes returns with her rich Gaelic singing. Liz Doherty from Ireland will join Lucy MacNeil as Artists in Residence. Banjo-playing balladeer Old Man Luedeke will keep us smiling with the stories behind his earthy songs. And we're really tickled to have Jim Payne and Fergus O'Byrne back with their delightful Newfoundland songs, stories and steps.
Exciting New Artists
Mec Lir is a vibrant young band from the Isle of Man with a range of instrumentation and a fun, up-beat sound. Alberta's Calvin Vollrath is an internationally renowned treasure in the world of Old Tyme fiddle music and, believe it or not, this is his first visit to Celtic Colours. Open the Door for Three is a new group but includes some old friends. Fiddler Liz Knowles and piper Kieran O'Hare have been spending time in Cape Breton for years, so it's great to have them part of the festival. And speaking of friends, the East Pointers is a new band from across the strait, but actually great pals of Cape Breton. It's Tim and Koady Chaisson's latest configuration, and we can't wait!
Cape Breton's Finest
Here on Cape Breton Island, we live in the midst of a rich musical heritage and our local musicians make up the largest component of the festival every year. Some of the artists you'll see include Lucy MacNeil, Mary Jane Lamond and Wendy MacIsaac, J.P. Cormier, Howie MacDonald, Dwayne Côté, Andrea Beaton, Kinnon and Betty Lou Beaton, Kimberley Fraser, and the Men of the Deeps. Many of our traditions still exist because they have been passed down by culture bearers over the years. This year we will honour three of those treasures with shows that focus on the important contributions made by the Cape Breton Symphony Fiddlers, Broadcaster Ray MacDonald (affectionately known as Ray Mac), and Eskasoni fiddler Wilfred Prosper.
Unique Experiences
There's much more to Celtic Colours, and to our culture, than concerts. Be sure to explore some of the 250 community cultural experiences in every corner of the island. Try out a square dance, a milling frolic or join in a session. Learn more about our festival artists and the cultures they represent. Take a workshop, a fiddle class or maybe a guided walk, or a hike with a magnificent view. For the visual art buffs, we have lots of amazing crafters and exhibits. Enjoy a home cooked meal at a community supper. This year many of our community meals are offering locally grown food, something you'll also find at our collection of Farmers' Markets. And plan to end your day at the Festival Club where the magic happens every night when the concerts are over.