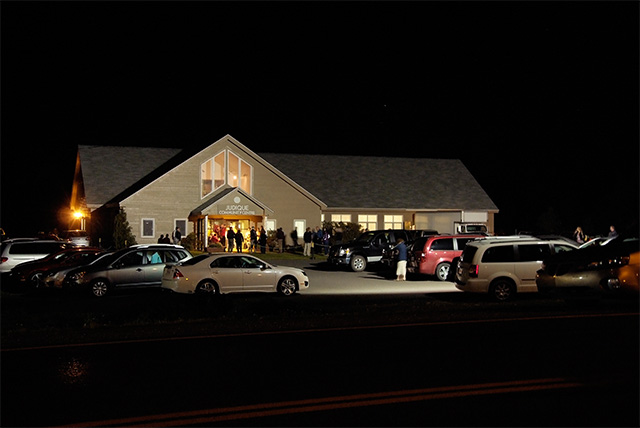 We are pleased to announce that Celtic Colours International Festival will include 49 concerts in 32 communities around Cape Breton Island this October. 
In presenting these concerts, Celtic Colours utilizes some of the island's finest facilities and works with various community groups who, in the role of Hosting Organizations, are responsible for selling local tickets, setting up and managing the venue, preparing and serving delicious meals for the artists, and welcoming everyone to their community.
We look forward to working together with our valued partners, groups and volunteers to bring you another Festival filled with the magic and the music we all love to share.
The full schedule of concerts, artists and more than 200 community events will be released on Monday, June 20 with tickets going on sale Tuesday, July 5 at 10AM ADT.
See the 2016 Concert Venue map by clicking here.
Friday, October 7
Port Hawkesbury Civic Centre, Port Hawkesbury – 7:30 PM
Saturday, October 8
Big Pond Community Fire Hall, Big Pond – 2 PM
St. Matthew's United Church, Inverness – 2 PM
Christmas Island Fire Hall, Christmas Island – 2 PM
Joan Harriss Cruise Pavilion, Sydney – 7:30 PM
Boularderie School, Boularderie – 7:30 PM
Wagmatcook Culture & Heritage Centre, Wagmatcook – 7:30 PM
Sunday, October 9
Colaisde Na Gàidhlig / The Gaelic College, St. Ann's – 2 PM
La Place des Arts Père Anselme Chiasson, Chéticamp – 2 PM
Fortress of Louisbourg Chapel, Louisbourg – 6 PM
Boisdale Volunteer Fire Department, Boisdale – 7:30 PM
Riverdale Community Centre, Lower River Inhabitants – 7:30 PM
Whycocomagh Education Centre, Whycocomagh – 7:30 PM
Membertou Trade & Convention Centre, Membertou (19 +) – 7:30 PM
Monday, October 10
Sarah Denny Cultural Centre, Eskasoni – 2 PM
Judique Community Centre, Judique – 7:30 PM
St. Matthew Wesley United Church, North Sydney – 7:30 PM
Baile nan Gàidheal / Highland Village, Iona – 7:30 PM
SAERC (Strait Area Education Recreation Centre), Port Hawkesbury – 7:30 PM
Membertou Trade & Convention Centre, Membertou (19 +) – 7:30 PM
Tuesday, October 11
Strathspey Place, Mabou – 7:30 PM
La Place des Arts Père Anselme Chiasson, Chéticamp – 7:30 PM
D'Escousse Civic Improvement Hall, D'Escousse – 7:30 PM
Our Lady of Fatima Church, Sydney River – 7:30 PM
Alexander Graham Bell National Historic Site, Baddeck – 7:30 PM
Port Morien Legion / Community Centre, Port Morien – 7:30 PM
Wednesday, October 12
Strathspey Place, Mabou – 7:30 PM
North Highlands Elementary, Aspy Bay – 7:30 PM
St. Mary of the Angels Parish Hall, Glendale – 7:30 PM
Louisbourg Playhouse, Louisbourg – 7:30 PM
St. Peter's Lions Club, St. Peter's – 7:30 PM
Highland Arts Theatre, Sydney – 7:30 PM
Thursday, October 13
Calvin United Church, New Waterford – 2 PM
Judique Community Centre, Judique – 7:30 PM
L'Ardoise Community Centre, L'Ardoise – 7:30 PM
United Protestant Church of Sydney River, Sydney River – 7:30 PM
St. Peter's Parish Church, Ingonish – 7:30 PM
Cape Breton Highlands Academy, Belle Côte – 7:30 PM
Inverary Resort MacAulay Conference Centre, Baddeck (19+) – 7:30 PM
Friday, October 14
Fortress of Louisbourg National Historic Site, Louisbourg – 5:30 PM
Inverness Education Centre / Academy, Inverness – 7:30 PM
Savoy Theatre, Glace Bay – 7:30 PM
St. Andrew's Presbyterian Church, Sydney Mines – 7:30 PM
Greenwood United Church, Baddeck – 7:30 PM
Port Hawkesbury Civic Centre Bear Head Room, Port Hawkesbury (19 +) – 9 PM
Saturday, October 15
St. Mary's Parish Hall, Mabou – 2 PM
St. Patrick's Church Museum, Sydney – 2 PM
Colaisde Na Gàidhlig / The Gaelic College, St. Ann's – 2 PM
Centre 200, Sydney – 7:30 PM

Festival Club held each night at Colaisde Na Gàidhlig / The Gaelic College, St. Ann's
19 +, Photo ID required • 11:00 PM