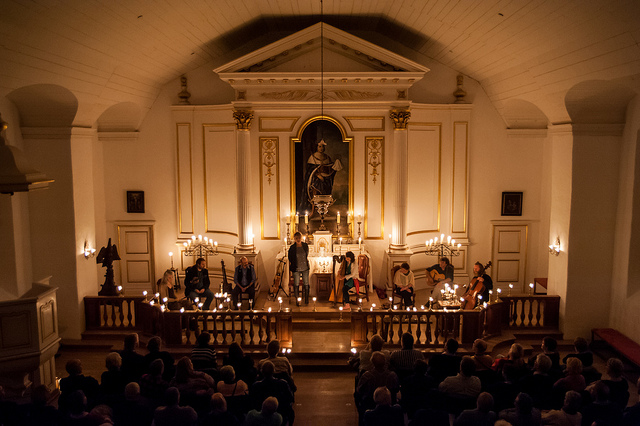 2015 Community Venue Schedule
Celtic Colours International Festival invites you to join us October 9-17 and experience all that Cape Breton Island has to offer. This year's Festival features 47 concerts held in venues across the island. From an 18th Century reconstructed French Chapel to state of the art performance facilities and community halls, each venue offers a unique setting for presenting live music and creating memorable experiences.
Full details on our line-up of concerts, artists and more than 200 cultural events will be announced on June 22. Until then we are pleased to announce the communities and venues that will host Celtic Colours concerts this fall.
Friday, October 9
Port Hawkesbury Civic Centre – Port Hawkesbury
Saturday, October 10
Highland Arts Theatre – Sydney (matinee)
St. Matthew's United Church – Inverness (matinee)
Christmas Island Firehall – Christmas Island (matinee)
Highland Arts Theatre – Sydney (evening)
Boularderie School – Boularderie
Wagmatcook Culture and Heritage Centre – Wagmatcook
Sunday, October 11
Colaisde Na Gàidhlig/Gaelic College – St. Ann's (matinee)
Place des arts Père Anselme-Chiasson – Cheticamp (matinee)
Fortress of Louisbourg Chapel – Louisbourg
Boisdale Volunteer Fire Department – Boisdale
Marion Bridge Recreation Centre – Marion Bridge
Whycocomagh Education Centre – Whycocomagh
Membertou Trade and Convention Centre – Membertou (19+)
Monday, October 12
The Sarah Denny Cultural Centre – Eskasoni (matinee)
Judique Community Centre – Judique
St. Matthew-Wesley United Church – North Sydney
Membertou Trade and Convention Centre – Membertou (19+)
D'Escousse Civic Improvement Hall – D'Escousse
Malagawatch Church – Iona
Tuesday, October 13
Strathspey Place – Mabou
Place des arts Père Anselme-Chiasson – Cheticamp
Riverdale Community Centre – Lower River Inhabitants
Our Lady of Fatima Church – Sydney River
Orangedale United Church – Orangedale
Port Morien Legion / Community Center – Port Morien
Wednesday, October 14
Strathspey Place – Mabou
North Highlands Elementary – Aspy Bay
St. Mary's Parish Hall – Glendale
Louisbourg Playhouse – Louisbourg
St. Peter's Lions Club – St. Peter's
Cape Breton University Boardmore Playhouse – Sydney
Thursday, October 15
Judique Community Centre – Judique
Greenwood United Church – Baddeck
L'Ardoise Community Centre – L'Ardoise
United Protestant Church of Sydney River – Sydney River
St. Peter's Parish Church – Ingonish
Cape Breton Highlands Academy – Belle Côte
Friday, October 16
Fortress of Louisbourg National Historic Site – Louisbourg
Inverness Education Centre/Academy – Inverness
Savoy Theatre, Glace Bay
St. Andrew's Presbyterian Church – Sydney Mines
Big Pond Community Fire Hall – Big Pond
Baddeck Volunteer Fire Department Community Centre – Baddeck (19+)
Saturday, October 17
St. Mary's Parish Hall – Mabou (matinee)
Colaisde Na Gàidhlig/Gaelic College – St. Ann's (matinee)
Centre 200 – Sydney