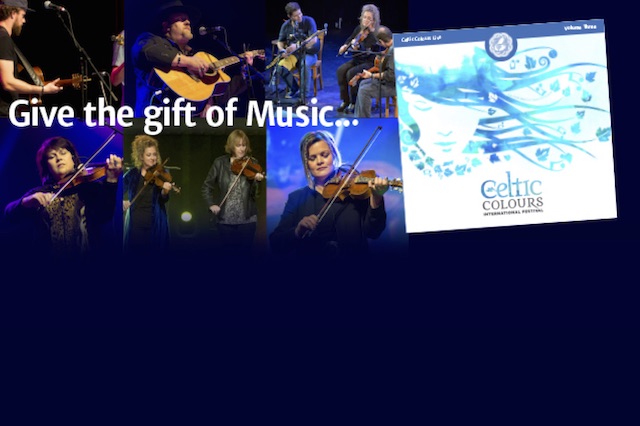 Celtic Colours Live – Volume 3 available now

They say, "You can't take it with you". And while that remains true in its original context, the Celtic Colours International Festival has found a way for music fans from around the world to do just that.
For the third year in a row, the internationally renowned, Cape Breton festival has sent its crack team of recording engineer Jamie Foulds and producer Declan O'Doherty all over the Island to capture the magic of this unique music and cultural event.
Celtic Colours Live – Volume 3 includes 14 tracks recorded during the nine days of the Festival. Showcasing artists from Cape Breton, PEI, Newfoundland, Nova Scotia, Scotland, Ireland, Sweden, Norway and the United States, this collection features fiddle, banjo, pipes, whistles, flute, guitar, and songs—in Gaelic and English. Opening with a stunning group of tunes by international supergroup the String Sisters, recorded during the opening concert in Port Hawkesbury, Celtic Colours Live – Volume 3 presents a cross-section of musical experiences from this year's festival.
Original songs from Old Man Luedecke and Stewart MacNeil, and traditional songs by Scottish Gaelic singer Kathleen MacInnes and Irish-American trio Open the Door for Three, are balanced with tunes by Fred Morrison and Paddy Keenan on pipes and whistles. J.P. Cormier weighs in with a blistering set of guitar tunes recorded during the closing concert at Centre 200 in Sydney while various combinations of fiddle, piano, guitar and banjo are sure to delight lovers of traditional music everywhere.
This year's Artists in Residence, Cape Breton's Lucy MacNeil and Irish fiddler Liz Doherty are well-represented on two tracks. Liz joins her Irish friends fiddler Aidan O'Donnell, flute-player Fintan Vallely and bodhran-player extraordinaire Gino Lupari for "The Old Bush Set", backed by members of Cape Breton's Barra MacNeils. Lucy and Liz team up again for the closing track, the "Cape Breton Set", recorded at the Savoy Theatre in Glace Bay.
Celtic Colours Live – Volume Three is available now on iTunes and copies can be ordered in our online shop. The CD will also be available to buy locally at the Curiosity Shop on Charlotte Street in Sydney, Colaisde na Gàidhlig / The Gaelic College Gift Shop in St. Ann's, The Highland Village Museum in Iona, and the Celtic Music Interpretive Centre in Judique.